These are the latest colors from Isacord!  42 striking colors that will beautifully complete any thread collection.  Each spool contains 1,000 meters with the same snap-down feature you've come to love!
Here are the new numbers: 
105, 138, 220, 230, 731, 643, 703, 721, 781, 1233, 1310, 1322, 1344, 1526, 1543, 1720, 1753, 1776, 2508, 2530, 2532, 2944, 3130, 3332, 3350, 3572, 3574, 3630, 3644, 3654, 3730, 3830, 3963, 4152, 4752, 4952, 5440, 5450, 5565, 6011, 6031, 6151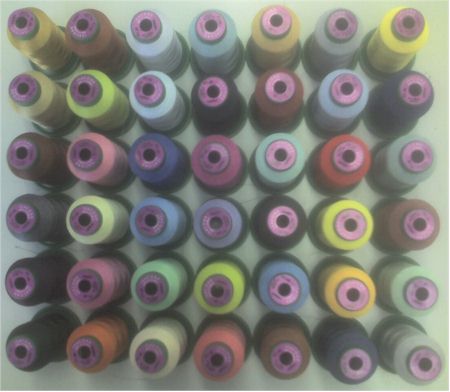 Isacord thread
By Judith A from Neenah, Wisconsin
I love the thread and the colors are so varied and vibrant. I only use Isacord and of course when the new ones came out I had to have them!!I have them all and doubles on many of them, when I am stitching at 2 am I do not want to run out. I love Isacord!!







42 New Colors 21008 Isacord Poly. Embroidery Kit
By Melinda from Lexington, South Carolina
Love the service and the product. My thread was sent in a day. Isacord has been my thread of choice since it came on the market. How nice to get the new colors in one group.







Bonus buys and Isacord thread
By Pam from Cleveland , Tennessee
Pam Henderson Madisonville Tn I love the Bonus buys on the thread box and Isacord thread. This is the only thread I use and Sew For Less has the best prices!







Love It
By Brandy from Ocean Springs , Mississippi
How can you not love Isacord? And it comes with the bounus and box. Isacord is the only thread that I don't have to fight with to use in my machine.







Isacord Thread
By AMANDA from WICHITA, Kansas
Isacord thread is the absolute best! It never breaks and there are so many colors to pick from.







Isacord Thread
By Linda from Longview, Washington
This is the best thread for machine embroidery. It sews beautifully without problems. I also love the cones the thread comes on - they have a bottom that locks the loose end - no more loose tangled threads when stored.







Isacord Thread
By Dianne
By Dianne B from Townsend, MA I purchased several spools. Delivery was very prompt. Love the thread. Colors are spectacular and don't run when washed, don't fade. Price is almost half what I used to pay from big dealer. Will definitely purchase again. I have never had a problem when sewing.







Isacord Thread
By Jean from Grass Valley, California
I was having problems embroidering with the thread I had, it always broke or raveled, I bought Isacord and my embroidering is 100% easier. This thread is great.







Isacord thread
By Brenda from Prospect, Ohio
I loved the fast service. I had it at my house 3 days after placing the order. The price is so much less than if purchased at a store. I will definitely continue to order from this site.







Isacord Thread
By Emily from Novelty, Ohio
By Emily - small town Northeastern Ohio Isacord Thread creates embroidery that "lives." It is vibrant in color and has a shine that makes my work special. I have used other brands but none compare to Isacord. The new 42 colors beg to be used as soon as possible....like now. A word about American Sewing Machine, Inc. I have ordered from them before. I appreciate their time and care and attention to my orders which are usually small.







By Sarita from Montana
By Sarita from Havre, Montana
I love Isacord thread. This was a great buy and the service was great - arrived promptly.







42 New Colors
By karie from Leawood, Kansas
The colors are great and the price is even better!







Isacord Thread
By Judy from Newnan, Georgia
I recently purchased a sewing machine that does embroidery and had no thread. I ordered a lot of Isacord thread during the Memorial Day sale so the price was great, I qualified for free shipping and it arrived very quickly. I will order again!







42 New Colors Isacord thread with two plastic cases
By Janice from Strongsville, Ohio
This is a super value and high quality thread! I have been doing business with Sewforless.com for nearly ten years. They are very nice people that offer reasonable prices, great customer service and fast shipping.







Service and Isacord thread
By Catherine from Red Wing, Minnesota
WOW what service!!! I completed my Isacord collection and was very impressed with the service I received. The thread come packaged and ordering 7 boxes of thread everything was well marked. Thank you I will recommend you to my friends. Cathy from Red Wing







ISACORD ROCKS!!!
By Tyler from North Myrtle Beach, South Carolina
We use isacord..THE BEST....always lots of great colors to select from! SEW FOR LESS always processes our orders quickly and we love their prices! Thanks for everything!!! Crazee Birds, North Myrtle Beach







Isacord Thread
By Janice from Woodward, Oklahoma
Isacord was recommended to me when I bought my new embroidery machine. The colors are beautiful! I ordered the "Build a Thread Kit". I thought it was a great value. The service at Sewforless.com was absolutely great! I received my order in just a couple of days and everything was just as I expected. The website is easy to use and very helpful.